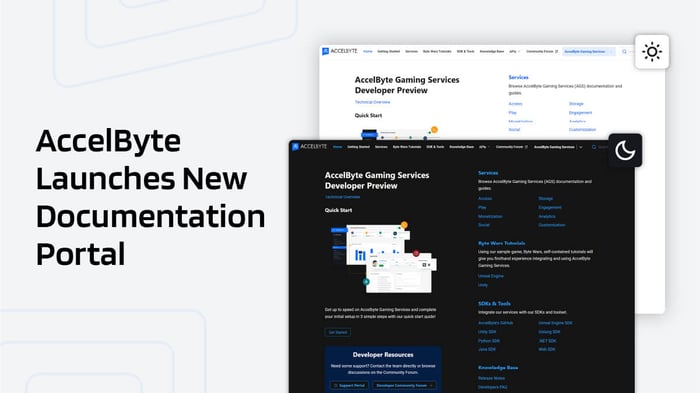 We are pleased to announce the launch of our brand-new documentation portal (AccelByte Documentation). You may have noticed the "docs-preview" content we've been publishing over the last few months. The new content now covers more product areas than the previous documentation, so we decided it's time to flip the switch and make it your new one-stop destination for all AccelByte content.
This portal launch is part of our broader initiative to provide our users with more resources to learn about our products and services. The current content is for AccelByte Gaming Services (AGS), but in the near future, this documentation portal will cover all AccelByte products, services, and add-ons. We kicked off this project in early 2023 with these essential goals in mind.
Centralize all AccelByte documentation: Rather than scattering documentation across multiple platforms, we have created a single repository for all AccelByte products, services, and add-ons. This not only streamlines the process of finding information but also ensures your experience is consistent.
Enhance the documentation usability: We believe documentation should be accessible and discoverable. Our new portal focuses on providing an easy-to-navigate and aesthetically pleasing interface, making it a pleasure for you to find and consume the information you need.
Improve documentation quality: We have focused on improving the quality of our writing to ensure our content is clear, concise, and up-to-date. This includes technical accuracy, grammar, and readability.
Offer comprehensive coverage: Rather than simply copying over the AGS content from the old portal, our team has worked with the product managers and developers to rewrite the content and ensure it's up-to-date and more comprehensive.
New tutorials: We have published a new tutorial series for AGS called "Byte Wars". This tutorial allows you to try out AGS features within a dedicated game environment that we've developed exclusively for our customers. We are creating these tutorial modules for both Unreal Engine and Unity.
More functionality for API developers: In the new portal, you can use Swagger to browse the API and Event definitions. This will speed up development and debugging for our customers.
Dark mode: Last but not least, we've added dark mode! This was arguably the most popular new feature in the new portal preview.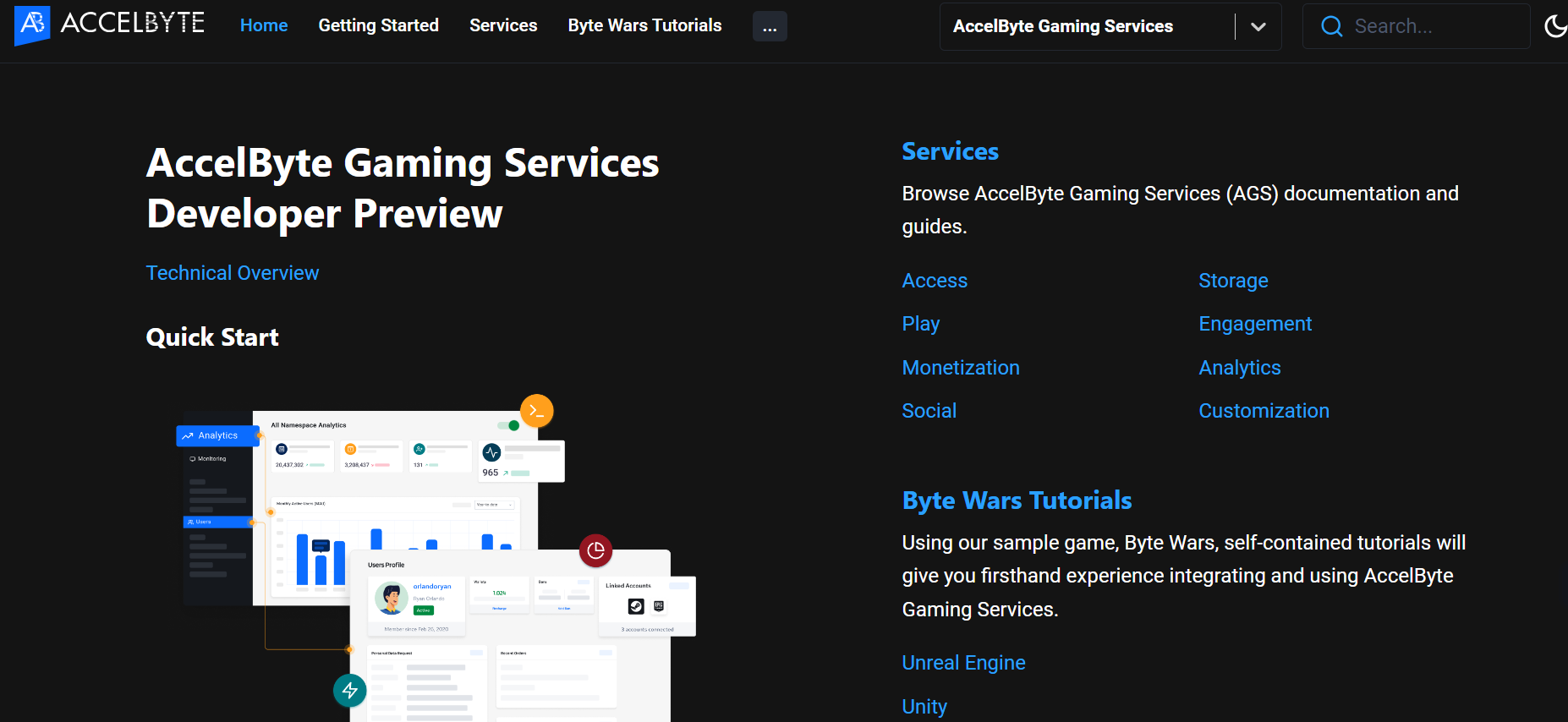 Looking ahead, you can expect to see even more exciting developments in the coming weeks. For instance, we will soon be migrating the AccelByte Developer Toolkit (ADT) content to this platform, making it even easier to get started with our development tools.
Many teams have worked hard on this new documentation portal and we're excited to share it with our community. It represents another step forward in our ongoing effort to provide the best possible resources to our users, and we can't wait to hear what you think.
Visit the new documentation portal today to check out the new content and tutorials. We welcome your feedback as we continue to improve and expand the documentation and other resources for our community.
Find a Backend Solution for Your Game!
Reach out to the AccelByte team to learn more.