---
A DEDICATED SERVER SOLUTION FOR DEVELOPERS
No more unmanageable, unreliable and expensive dedicated servers. AccelByte Multiplayer Servers (AMS) is the most developer-centric and intelligent dedicated server solution for multiplayer games. Built for dynamic gameplay traffic, AMS provides a reliable player experience with 99.9% uptime guarantee at a lowered cost. Seamlessly integrate with Unreal Engine, Unity, AGS, and your game with just a few lines of code. Dashboards enable flexible configuration and observability so you can increase gameplay experience while lowering costs.
Join thousands of game development professionals and simplify your workflow today.
---
Already a customer? Talk to your account manager or technical producer to start today.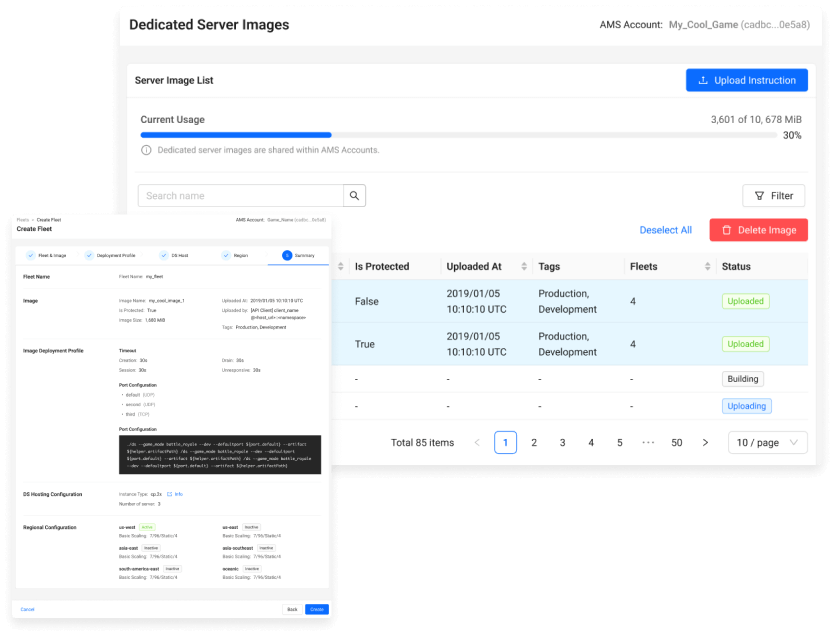 AccelByte is Trusted by Leading Game Studios and Publishers Around the World
Learn More Here

AccelByte Multiplayer Server (AMS) efficiently preloads and manages game servers in the regions Blankhans specified to ensure players can always access geographically close servers. This approach optimizes network performance, allowing players to enjoy the best gaming experience.
---
Read the Full Customer Story Here
Features
Built for Developers
---
Simple integration with Unreal Engine, Unity, AGS Matchmaking, Session, and your game with via our SDK with just a few lines of code
Select preferred virtual machine instance types to run different dedicated server images
Size dedicated server fleets on preferred regions based on demand
Get detailed telemetry of dedicated server fleets, usage metrics, alerts and logs via a dashboard
Superb Player Experience
---
Region separation and a local watchdog ensures gameplay is unaffected during downtimes
Players connect to the lowest latency server automatically
Zero downtown dedicated server upgrade
Lower Cost
---
"Hug the player curve" - intelligently scale resources to reflect player traffic; consolidate resources and define packing to ensure highest utilization of resources
Cost-effective servers offered with a short committed use window for new game launches that require flexibility Multi-Tenant
How it Works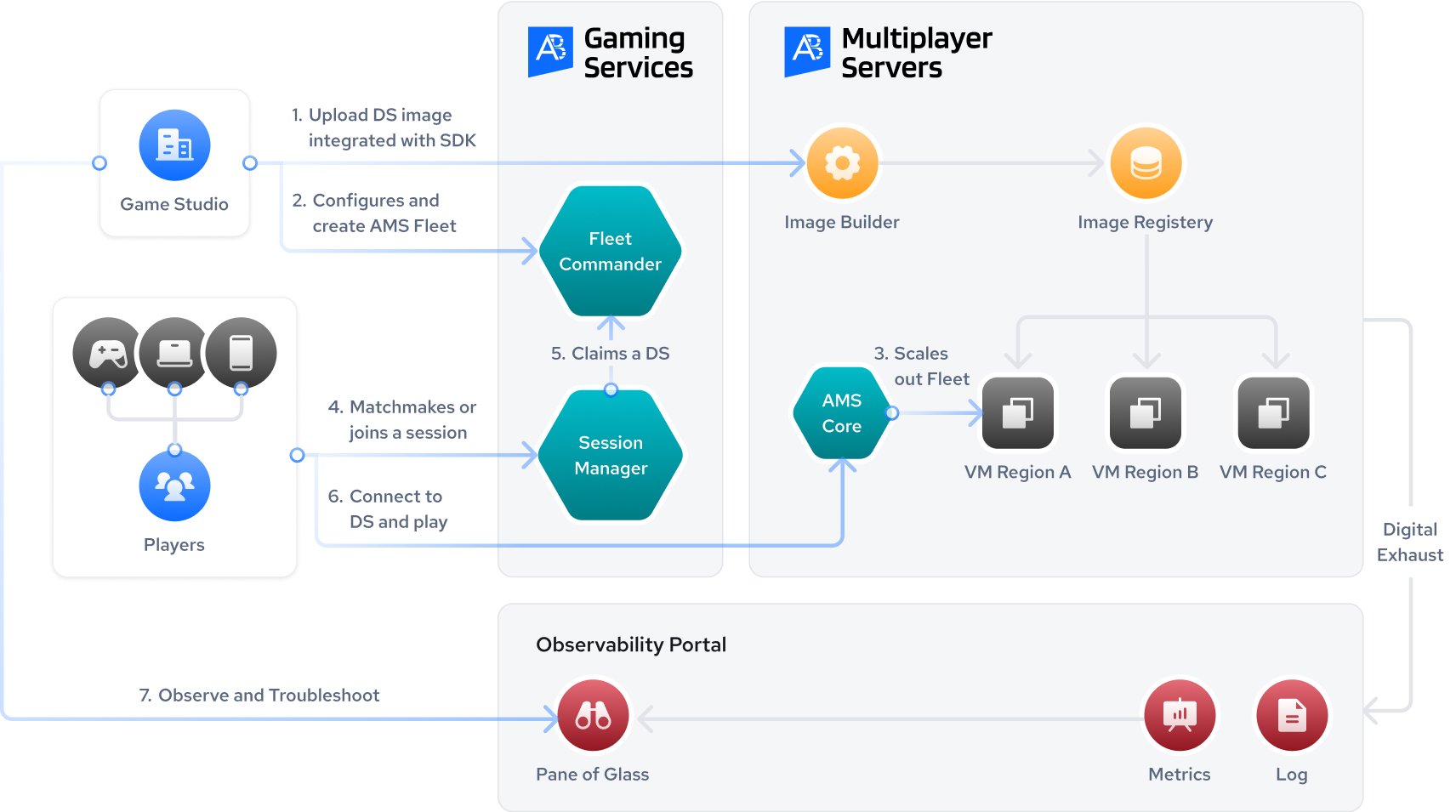 Why AMS?
Automatically deploys with AGS
Self-serve access to web portal with onboarding instructions
Pay as you go using on-demand instances
Wide selection of VMs available globally
Save When You Commit to One Instance Type
Get up to 30% more savings via committed use to one instance type
AMS provides optional shorter commitment terms compared to other cloud platforms
Choose shorter 3, 6, 12 month options instead of committing to multiple years
Understand your game and player traffic before commitment to more - a great option for game launches and updates
Request a Demo
Already a customer? Talk to your account manager or technical producer to start today.
AccelByte has exceeded our expectations for high quality quick iterations. With a new company and aggressive mandates for remote employees we would not have been able to achieve our goals without AccelByte.
I've been in the industry for a long time and appreciate how difficult it is to create excellent backend technology that delivers a seamless player experience. We know AccelByte can deliver a world class experience that frees up our time to focus on making games.
By using AccelByte we've been able to leverage our existing tech and expertise to get started, allowing us to take the time needed to build the right team. We've been able to iterate quickly on custom features, while supporting studio needs.
Customer Stories
Let's get in touch! AccelByte can help you build, operate, and scale your next hit title.
Find a Backend Solution for Your Game!
Reach out to the AccelByte team to learn more.