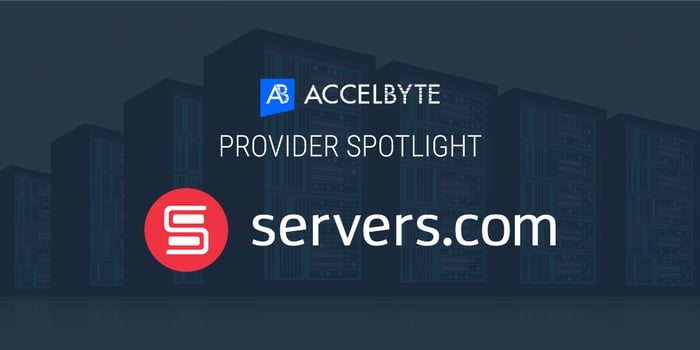 When it comes to hosting with bare metal providers, there are a vast amount to choose from. Like pretty much any service out there, you get your good and bad providers and they all come in at very different price points. In part one of our provider spotlight series, we will be looking at Servers.com and why AccelByte has chosen them as one of our core providers for our clients and our own bare metal hosting needs!
Why Servers.com?
Servers.com has been in the hosting industry for some time now. Over the last few years, they have made a name for themselves by providing some of the best hardware types in highly sought after locations. Their superior hardware is coupled with their unique web panel which allows you to order and manage your hardware without ever needing to speak to another human. If speaking to people is your thing, they also have a dedicated team working behind the scenes to ensure that everything is running smoothly and you are receiving the best possible service.
A White-Glove Experience
With a less than 24 hour turnaround time on orders, Servers.com ensures that we always have capacity when we need it. In fact, Servers.com often is able to get us dedicated servers within a couple of hours. Not only have they provided AccelByte with quick hardware, but they have been exceptionally accommodating and have provided us with a number of different hardware specifications at no additional cost for testing. Obviously we can't have free servers forever, but the fact they can provide us with a server or two for testing is testament to their way of working and proving that their hardware is the best in the industry.
AccelByte with Servers.com
Servers.com provides us more than just dedicated bare metal servers. They offer us an insight into the larger world of data center hosting as well as forecasting into the state of the industry in general. With their help, we have been able to effectively navigate the world wide chip shortage, while ensuring we are able to secure bare metal for our clients. With Servers.com, we are more than just a customer to them; we are partners who want to help each other exceed wherever possible!
The best approach to hosting is combining the power, cheaper cost and guaranteed capacity of bare metal with the flexibility and unlimited scale of Cloud. Using the best of both worlds results in higher capacity, lower cost, and a better time overall for everyone involved.

If you are interested in utilizing Armada to help with your hosting costs, please feel free to reach out to the AccelByte team, who will be more than happy to run through a comparison suited to your needs. Get in touch here.
Find a Backend Solution for Your Game!
Reach out to the AccelByte team to learn more.