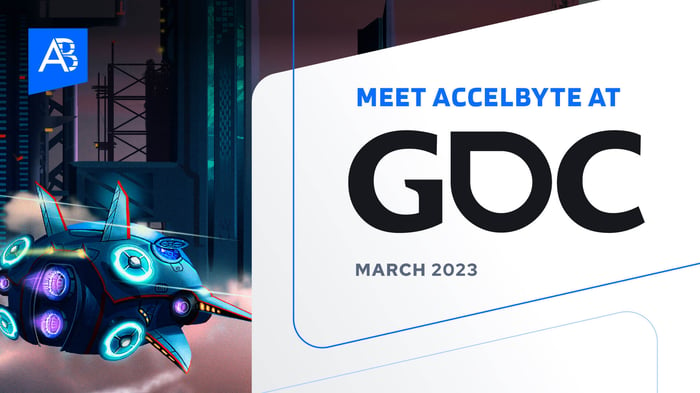 AccelByte will be back at GDC this year. Keep reading to find out where you can find us, how to book our time, and even a fun activity we'll have on the expo floor. We're excited to see you in San Francisco soon!
Panel with Incredibuild
We're hosting a panel and cocktail hour with Incredibuild during GDC. Join us just a short walk from the conference for food, drinks, and conversation. This interactive panel will feature experiences and insights from various gaming experts, including Doug Barnes, Founder/CTO of Final Strike Games; Jason Bestimt, Engineering Director at Bad Robot Games; Brian Etheridge, Publishing Director at Tripwire Interactive; Raymond Arifianto, VP of Technology at AccelByte; Dana Weintraub Rochman, Chief Product Officer at Incredibuild.
The event, Launch Early, Release Often: Lessons from Launching Early Access Games will dive into:
The reason studios choose the early access route
Common challenges studios face, and how they overcome them
Key learnings from industry experts
Where: Executive Order Bar
When: 7:00-9:00pm PST March 22, 2023
Register here!
Book Time With AccelByte
If you'd like the chance to connect with a member of the AccelByte team check out the links below.
Alex Vlahopoulos, Business Development
Dennis Yi, Director of Partnerships and Channel Development
Shin Hamanaka, Director of Business Development
Train Chiou, VP of Customer Success
Oliver Smith, Developer Support Manager
Online Game Technology Summit: Creating Scalable, Engaging User Generated Content in Saints Row Boss Factory
Join us for a session during the Online Game Technology Summit.
Location: Room 3005, West Hall
Date: Monday, March 20
Time: 3:50 pm - 4:20 pm
Saint's Row Boss Factory took the game world by storm—thanks to its robust and easily shareable creative options. In this session, Ispanji Pratama, Head Product Manager at AccelByte, will dig into how AccelByte built the system that can handle millions of Saint's Row players while also providing good player experience when creating, browsing and sharing Bosses and Weapons as User Generated Content (UGC).
Attendees will walk away with knowledge on how to create robust and expansive UGC (User Generated Content) systems that take into account high-volume player numbers and prioritize player experience and ease-of-use. Full details here.
Find us at GDC Booth S768
Members of our customer success and product teams will be at the booth during expo days. The AccelByte booth is at space S768 this year. Check out the floor plan to find the exact location.
Feeling up to some friendly competition? If you visit the booth come prepared with your horror launch stories. Three stories, submitted as written haikus, will be selected to win a pair of AirPods. We'll share the winning haikus on our Twitter and ship out AirPods after GDC concludes. Attendees must visit the booth and submit through the in-person link to be considered.
We can't wait to see you at GDC!
Find a Backend Solution for Your Game!
Reach out to the AccelByte team to learn more.