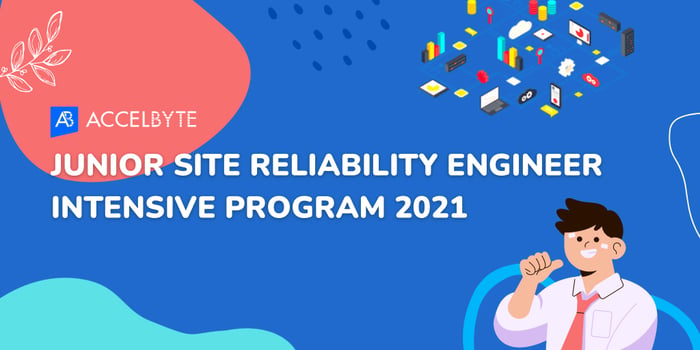 Basic Information
Opening date: 7 October 2021
Closing date: 24 October 2021
Occupancy level: Staff
Status: Trainee
Program Description
The Junior Site Reliability Engineer Intensive Program 2021 is a 3-month comprehensive training program provided for candidates looking to develop their knowledge and build a career in Cloud Computing. This opportunity is open to fresh graduates from Computer Science, Engineering Informatics, or equivalent programs, or junior SRE/DevOps employees.
As a candidate, you will have the opportunity to have intensive, hands-on learning in this area. The 3-month training program is provided as a learning experience to interact with our professional engineers, get involved in several projects, and gain knowledge with the training materials. During the program, we will assess your ability and possibly offer you a full-time position at AccelByte!
Requirements
Degree in Computer Science or equivalent experience
Have an interest, fundamental and basic knowledge in the areas of: Linux, Databases, Networks, and Cloud Computing
English speaking and writing proficiency
Deep interest in the game development
Able to join the program full time
The Benefits
Monthly allowance
Laptop, screen, keyboard and other work-related equipment provided
Work From Home (during the Pandemic)
Private Insurance
Relocation Package (if relocating is needed after the Pandemic)
Social Activities (sharing session, online game with the team, etc)
Opportunity to be a full-time employee at AccelByte!
Timeline
In the first month, you will learn general knowledge about cloud computing. We will provide you with self-learning tools from insightful e-learning platforms. Also, in this phase, our professional engineering team will mentor you.
In the second month, you will start to do hands-on tasks with the guidance from our engineering team. This is the phase where things get exciting!
In the third month, you will fully handle more intensive tasks, dive into projects, grow together with the team, have deep interactions with the team as you encounter challenges, and feel positive team support.
Registration
You can register to the program by visiting this LINK.
Find a Backend Solution for Your Game!
Reach out to the AccelByte team to learn more.