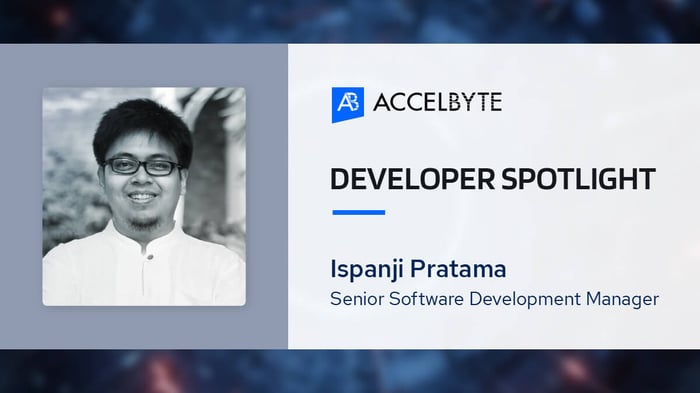 Panji is experienced in leading various cloud, web, and mobile app development projects. He has extensive knowledge and expertise in online services and digital product development, ranging from e-commerce, news, digital imaging, online messaging, account management, game services, and more. He has always wanted to be a developer ever since high school and hasn't looked back since!
Share a bit about the coolest thing you've worked on since you joined Accelbyte.
There are few of them, but I think the most visible one will be the UGC service used for Saints Row Boss Factory. It's cool to see how our service can empower not only the game but also the supporting app (website) which we can see getting more and more common.
What's your favorite part of what you do? Why do you like it?
I like that we build products that also focus on the developer experience (not only consumer experience) where we usually take a lot of technical consideration when building it. It gives us the chance to explore more about the engineering side of it.
Which problem for game studios are you most excited to solve? Why?
One of our main value propositions is customization and it is a very challenging issue to solve. There are tons of games with multiple use cases that are almost impossible to generalize. I get the chance to build customization solutions without deviating too much from our core product, while also looking for an opportunity to productize those issues and cases into our core product offerings. It is always fun to see how the solution that you build / suggest can help the game launch.
Describe your work-from-home setup.
I just have a simple "standing desk," using a stack of whatever I have in my room, mostly cardboard boxes with a midi controller on it. I started to play music again at the beginning of the pandemic but rarely make it lately.
What's something that's a must-have for your workspace?
I rely on my omni mic a lot. It allows me to have a call with whatever position I like. Whether it's standing or walking around the room. Wearing headphones all the time is quite tiring.
What music (if any) do you listen to while you work?
I have recently been listening to Tom Misch and Yussef Dayes.
What past achievement are you especially proud of?
Nothing specifically stands out, but if I had to pick, I was working in this Catfiz Messenger App similar to Line/Hike/Whatsapp. We did a total services and client/UI/UX revamp to fix a lot of issues and released the V2 version of the app in a very short time after I joined. We needed to stay at the office for around 3-4 days straight. It was quite a success, and media coverage and user responses were good. We were able to gain more traction after that.
An achievement I'm proud of at AB would probably be First Class Trouble launch. It was personally my first sizable game launch because we had a featured event with PSN. While it wasn't that smooth, we were able to recover and had a lot of lessons learned to help us improve further.
What did you want to be when you were a kid?
Silly answer, I literally said that I wanted to become a robot when I was a kid :).
What made you decide to be a developer?
Not sure why, but this is something that I've always liked since high school, and haven't really been interested in anything else.
Tell us about the first programming language you learned and how you learned it.
If I'm not mistaken, I started using C++ for OpenCV during college and mostly learned online.
Tell us about the first thing you built or coded.
Academically - a motion capture storytelling app using xbox kinect for a college project. Commercially - an android camera app for image blending which failed miserably.
Tabs or spaces?
Spaces
Nano or Vim?
Nano
Rewrite or Copy/Paste?
Copy/paste
Most used keyboard shortcut.
Right now, Windows + R.
Favorite game (and on what console?)
I like RPG/Medieval Settings, the one that left quite a bit of an impression somehow was Kingdom Come: Deliverance.
How do you keep up with the latest trends, advances, and programming languages?
Usually just trying to relate the day to day problems that we're trying to solve with the latest trends, tech out there.
Find a Backend Solution for Your Game!
Reach out to the AccelByte team to learn more.