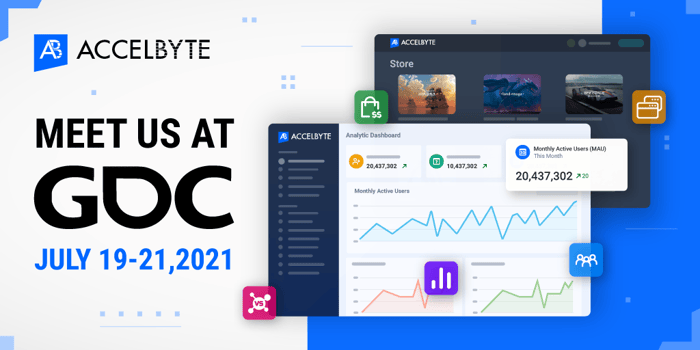 What's New
It's in the title, we're going to participate in the Virtual GDC 2021. This time around we have more to offer in our AccelByte Cloud backend-as-a-service product offering:
Our dedicated server fleet manager Armada can utilize a mixture of bare metal and cloud services to help reduce hosting costs for you, while providing the best performance and experience for your players.
See more details of Armada
Party invite code is an excellent new feature in our Socialization Services to make inviting users across different gaming platforms a breeze, skipping all the complicated user experience to search for and find friends cross-platforms.
Groups are a great way to implement Guilds or Clans to let players chat and play together in online multiplayer games. With the Group Notification update, we've added notifications to keep players informed about group activity, like when members join or leave the group.
Subscriptions is a new Commerce Service feature to enable recurring revenue and offer great value to your player base.
And lots more as our platform services evolves
Since the past Virtual GDC, we also came up with AccelByte BlackBox. BlackBox offers a suite of essential tools that developers use to efficiently capture and analyze game crashes, and monitor the performance of all key game systems. This ensures that newly developed game features are not having a detrimental impact on the game during development, production, and pre or post-launch.
BlackBox has several key differentiating features:
Comprehensive Reporting System BlackBox
Crash Reporter can constantly capture and store a 10 second video of all game crashes. These are made available to you along with a symbolized crash report to show you the exact line of code that caused the crash.
Seamless Monitoring System
Optimizing game performance is paramount to any game. Our Profiling features remove your team's need for extensive additional profiling code, allowing the game development team to focus on game development, and fixing performance bottlenecks. BlackBox needs minimal initial setup, which then allows you to constantly measure your game performance from back to front, day after day, whether you're a developer, product owner, or QA.
Third-Party Integration
We provide various integrations that help your team manage project issues highlighted in crash scenarios and optimisation runs. We support JIRA integration, to create and link existing JIRA tickets to track crash status. We also support integrating your build with Jenkins, integration with your AccelByte account, and third-party alert notification for when a crash happens in your game. We support Slack, email, and are working on further integrations for the near future.
BlackBox services are compatible with Unreal Engine 4, and support games running in Windows and Linux, and we are constantly working to bring more supported devices, such as Current and NextGen Game Consoles.
Schedule
We're going to be in the virtual booth from July 19 - 23, and we'd love to meet you there!
You can find our booth by going to this link once you're registered as a visitor of Virtual GDC 2021.
Let's Get Connected!
We've set up a couple of ways for you to engage with us during the GDC week. We will have a live chat room on our booth page and discord server where you can ask all your questions to our Staff, or you can tune into our Virtual Booth and view our useful product information.
Get a Private Demo / Consultation
You can also always schedule a call with us by leaving your inquiry and contact on our website, or send us an email at hello@accelbyte.io.
Be sure to sign up to our newsletter for our most recent updates straight to your inbox. Follow us on social media to stay tuned for our Virtual Booth updates!
See you online!
Find a Backend Solution for Your Game!
Reach out to the AccelByte team to learn more.