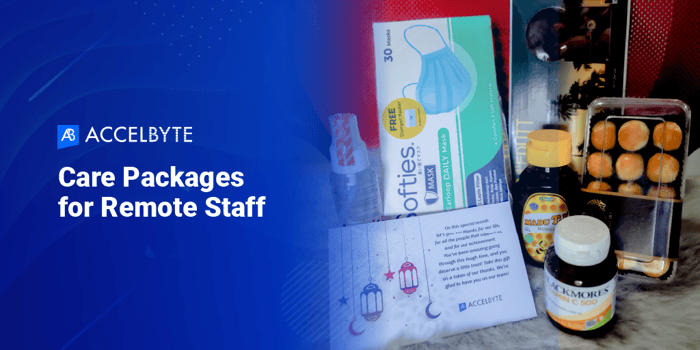 Since the beginning of our going completely remote in March 2020, we've been doing our best to support our employees in making remote working possible. We're constantly keeping in touch with our employees and trying our best to provide support, since everyone is obliged to perform physical distancing and self-quarantine. It's been over a year and counting, and we won't return to the office until it's completely safe to do so. One way we've kept everyone close is to send our staff care packages, to keep everyone both healthy and happy.
In April 2021, AccelByte Indonesia sent another care package out to employees. Over 200 packages were sent to our employees all over Indonesia. The package contains treats like cookies, honey, and dates, since it's Ramadan season in Indonesia, and it is customary for the local families to enjoy these treats. It also contains essential health supplies such as vitamin C, hand sanitizer, and face masks to remind our employees to stay healthy and safe.
The April package is our second of the year, the first being sent in February. We understand that even though many employees love remote working, it's not for everyone. During this period of isolation, many people miss their friends at work and being able to discuss projects face to face, and find it difficult to focus or stay organized. We want to tell our team that we're all in the same boat, and we are committed to providing our best support for our employees' health, both physical and mental.
This care package series isn't the only support that we provide for our employees. Aside from both private and public health insurance, we also offer Flexible Benefits that can be used to cover employees' health needs that are not covered by insurance, such as purchasing supplements or gym memberships. During the pandemic, employees can also use their Flexible Benefits to purchase a working desk and chair, since it is an essential need to work at home comfortably. Besides the separate internet allowance that we give to our employees, which we increased a few months ago, employees can now use the Flexible Benefit allowance to cover their internet installation also, since many Indonesian homes are still without wireless internet. And we are continuously working to send work supplies such as laptops, monitors, to our employees whenever they need them and wherever they are.
It is in our best interest for our employees to stay safe, healthy, productive, and happy working among their family or housemates. While we hope we can all meet together in our office soon, at least we can stay connected while we're apart.
Find a Backend Solution for Your Game!
Reach out to the AccelByte team to learn more.