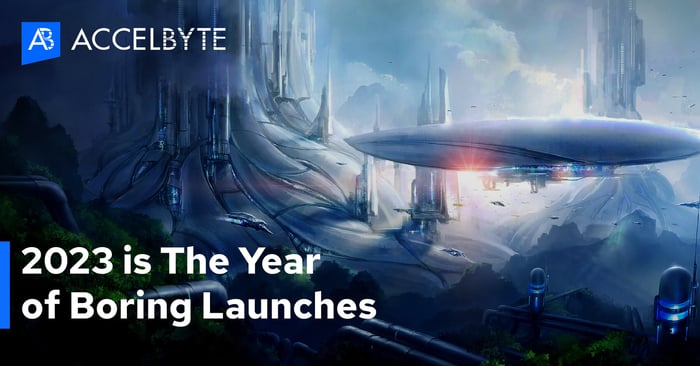 "Shipping is finding the right product, working through a complex and ever-changing process, and doing it quickly. Shipping is one of the few truly new crafts of our century." - Shipping Greatness by Chris Vander Mey

It's no secret that we work with some of the biggest game developers in the world, such as Volition, Striking Distance Studios, Remedy, Sony Studios, and Starbreeze; as well as many upcoming studios with impressive pedigrees such as Omeda, Theorycraft, Raid Base, and many more.

They trust us to ensure that the online experience will work for their game - it's only fitting that we step up to the challenge to meet their expectations.

Looking back, 2022 was the year that we focused on shipping games and learning from our experiences. We've helped ship games with full cross-play across Steam, Epic, Xbox, PlayStation, Nintendo, and mobile; games on Xbox Game Pass or PlayStation Plus Free Month, games with free online demo, games on closed beta, early access as well as full simultaneous multi-platform launch.
Our part in game launches
Quick - what is the most important part of making a game?
While it's hard to pinpoint exactly one point, we'd like to think that game launch is one of the most important milestones in game development.

By game launches we mean the ritual of releasing your game with real players beyond initial friends and family betas - so that includes public closed or open beta game releases or even big meaty DLC releases.

AccelByte understands how important game launches are for our clients. They are the culmination of many years of hard work and an outpouring of creative outlets.

You can say that we are a bit obsessed with shipping games. We work closely with game developers to ensure a boring launch with a fraction of the resources and headcount they might otherwise need.

We work with our clients on the following when they are entering their launch phase:
Launch readiness preparation collaboration
Performance test and scale production services for launches
Heightened operational awareness and alerting
Joint launch war room execution
And many more touch points as we know that every game is different, and every launch is unique
Fun numbers from 2022
In 2022, we had 14 launches, eight full and six early access or public beta.

In total across all of our live environments, there's been over 20 million new player accounts created, 62 million players logging in to the system - across all platforms (Steam, PlayStation, Xbox, Epic, Switch, Netflix and other platforms).

So that's about 24 million unique active players, with 15.2 million matchmaking sessions to keep them playing and many gigabytes of player data and analytics generated to help understand and improve the player experience.
2023 is going to be next level
Looking ahead to 2023…

We are excited about the evolution of the tech that we are working on:
Some are iterative in nature

Rotating store enhancements

Season pass reward enhancement

Some are evolutionary such as the next major improvements to…

Multiplayer solutions
Our dedicated server fleet management service
Telemetry pipeline and self-serve analytics
Updated store/launcher

Some will be new capabilities:

Code level customization
Extending functionality via gRPC
Self-service tooling that our platform engineering team is enabling for more empowerment and autonomy
More advanced analytics and fleet management capabilities.

And many more to be announced throughout the year!
Oh, and, of course, shipping many, many more games. When our clients are successful, we are successful; and for that, we will work hard to ensure their game launches are boring.
Find a Backend Solution for Your Game!
Reach out to the AccelByte team to learn more.