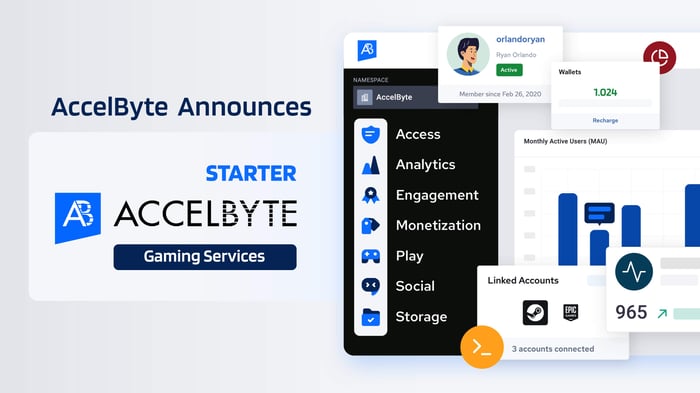 A plug-and-play backend to build, launch, and operate cross-platform,
multiplayer games for studios of all sizes.
Today, we're excited to announce AccelByte Starter – a completely free game backend platform that enables studios of all sizes to build, launch, and operate their own cross-platform and multiplayer games with ease.
AccelByte Starter provides access to all the same critical game backend tools as our Premium plan used by AAA customers on the AccelByte Gaming Services platform, with support for up to 1 million player accounts and 50k monthly player-hours.
What is AccelByte Starter?
Earlier this year, we piloted a simplified, plug-and-play version of our core AccelByte Gaming Services backend platform, under the code name Foundations. Now following a very successful Early Access Period, we're delighted to officially launch AccelByte Starter as a broader part of the AccelByte Gaming Services Platform
Every core service part of AccelByte's backend platform is now available in Starter, including:
Most importantly, AccelByte Starter is built to enable easy migration to the full AccelByte Gaming Services platform. This keeps open the option to upgrade to the complete AccelByte offering– and all the associated dedicated LiveOps support– at any time if/ when your title blows up!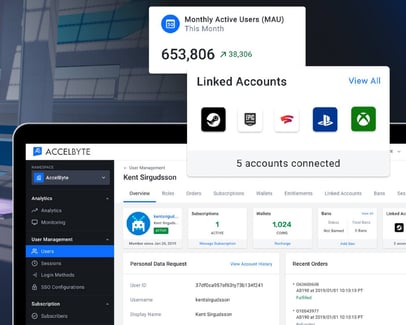 Democratizing Game Development
Until now, the core AccelByte Gaming Services platform was a private cloud offering primarily available only to AAA studios like Dreamhaven, Krafton, Volition, and Omeda to build and operate the largest multiplayer games.
Our dream, however, since we started our company 6 years ago was to always make this technology, a domain historically exclusive to only the biggest studios, available to game creators of all sizes. Building fully featured, cross-platform, multiplayer titles takes time and money that challenges even the largest and most experienced teams. Now we are taking those 'battle tested' tools– that powered a combined 62 million players logging in 2022– and democratizing access to all creators no matter their current level of funding.
Looking Toward the Future
Launching AccelByte Starter is just the beginning! In 2023 we plan to bring even more to all game studios as part of Starter, including:
Multiplayer Servers, our dedicated server fleet management service that automatically scales to match players on demand

Extend, code level capability to customize or extend AGS functionalities to support entirely new services endpoints or override existing service behaviors
We are also building a new community forum for AccelByte– so stop by and let us know what you think. We're always looking to hear from developers about their unique challenges and how we can help teams solve problems and make awesome games!
Start Building Now!
Ready to get started? Sign up here.
You can also explore Byte Wars, our new official tutorial game intended to act as a sample project reference on best practices to integrate AccelByte services into your game.
Find a Backend Solution for Your Game!
Reach out to the AccelByte team to learn more.