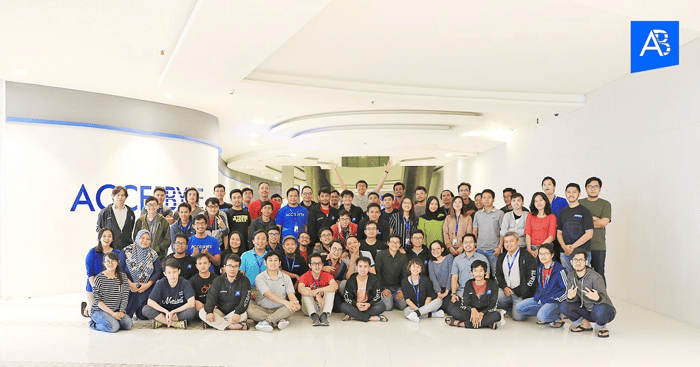 In game technology business, we believe that there is no such thing as one solution fits all, especially for backend services. We understand that every game developer and/or publisher is unique in their own way with their own specific roadmap to success. Our culture allows us to work our best in helping you reaching your destination by the path you set.
Since the right culture enhances the morale of our folks and encourages them to put in their best at work, we take our work culture seriously — we'd like to keep our productivity high. By nurturing the good culture and preserving it, we keep everyone to move in the same direction, your direction, to accelerate your growth and progress. If you're curious of how we do things in AccelByte, you've reached the right place.
Vision of Working on Your Project
Working on your project means helping you achieve goals to succeed. As our valued client, you direct us on how to best fit the platform for your brand. You might simply want to use the templates we provide, or you want to customize some features and have them finished based on priority. We'll be working side by side and together we figure out the best method that works for your project.
There is no one-solution-fits-all when it comes to game backend technology. We'll do the best to help you put checkmarks on all your unique platform success criteria in the list. We want you to succeed, because your success is also our success.
Project Management
We place people with the right skill-set to work with you on your project. We make sure that they are one solid team to compliment your development team — we unite our understanding of the mission to get everything up and running. You are informed of all the team members for your project (and details on their skill set by request), and you can reach them by their handle anytime.
Together we organize and set the roadmap for your project. Our management splits the tasks for the team into sprints. Each sprint runs for two weeks and, while you can monitor our work progress anytime from the channel we set together, we send you a progress report on what we have accomplished per sprint. In every sprint planning we include you for a retrospective discussion, we might find anything you wish to improve or add. Then, we set the goals to accomplish for the next couple of weeks.
If you need some bigger update-meetings & roadmap organizations every once in a while, we can arrange that. Feel free to discuss your needs for any recurring meeting be it per month, per quarter, or else. You set the time and we make sure to keep you updated.
Honest and Transparent Communications
Our culture allows us to be as transparent and honest as possible, including in delivering newfound problems to you. We let you know about everything in each sprint, from the progress report to any oddities found in the process. We make sure to communicate our solution to deal with them, but if you need to alter the solution, we're happy to follow your way to resolve the problem. You own the platform and it's in your goals-achieving journey, we want to make sure everything runs in the direction you want to go.
Keeping the Security and Confidentiality
Security is one big factor in the whole process, be it in a payment situation, account management, anything at all. We strive to make your and your user data safe and secure in your hands. We make sure our solutions work for you without our team access to your user data. With us, you completely own your users.
In addition to that, we enforce a series of company security protocol to all of our employees. All confidential data are kept between you and AccelByte, and it is in a written agreement with all of the employees, that any confidential data leaking is considered a serious matter. We value confidentiality because we understand its importance to your brand. We want your brand to be successful: we respect your privacy, your product ownership, and anything in between, which makes keeping your confidential data confidential a core of our work culture.
Culture to Teamwork & Owning Responsibility
We build teamwork by having every personnel's participation in the team. Everyone in the team is given the opportunity to speak up in team discussions. Leaders have the role to manage and give direction, however everyone is allowed to speak of a solution to deal with an issue. That gives us various perspectives to tackle a problem, which we bring in the discussion to find the best way. Once a method is agreed upon, everyone commits to it and keeps on going in the same direction.
We are both independent and dependent. We are independent in a sense of we do not wait for a command to fix an error — when we find an error, we fix it right away. Everybody can generate their own task in improving our service for you. We are dependent in the sense of we rely on teamwork to produce best-quality products. We have a QA team to test everything and we have our teammates to review our code from the beginning to the end of production — thus we can work our way to produce clean and efficient code with the best quality possible. Teamwork plays a great deal of role in the company.
The sense of belonging that we advocate to every employee encourages them to own responsibilities, not because they are required to, but because they want to contribute to your success by doing their best.
Global Presence
Beside our headquarters in Seattle (WA), we have teams in places around the world, including: Vancouver (Canada), Dublin (Ireland), San Francisco Bay Area (CA), Suzhou (China) and a growing office in Yogyakarta (Indonesia). With teams in different locations and time-zones, our business is global and not limited by geography. We have been working with game developers and publishers around the world and our teams make it possible to keep their service up and running 24/7. It has been our goal and ambition to help game developers and publishers scaling up their business globally. Be sure to reach out to us and we will help you accelerate your business leverage wherever you are.
---
Please reach out to us hello@accelbyte.io to know more about what we can do for you.
Find a Backend Solution for Your Game!
Reach out to the AccelByte team to learn more.