Build Better Games, Faster
No more hunting down the latest build, taking screenshots, and waiting hours for massive files to download. Accelbyte Development Toolkit (ADT) is built by game developers, for game developers. Distribute builds, playtest, and monitor your game's health in minutes, all from one centralized hub. Join thousands of game development professionals and simplify your workflow today.
30-day free trial. Cancel at any time.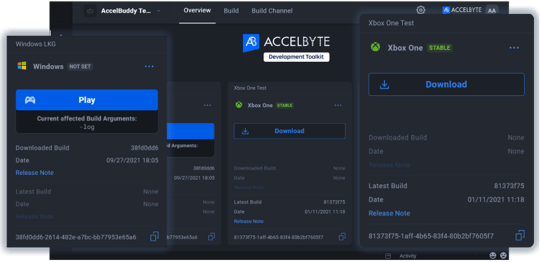 Accelbyte Development Toolkit is Trusted by Leading Game Studios

AccelByte has exceeded our expectations for high quality quick iterations. With a new company and aggressive mandates for remote employees we would not have been able to achieve our goals without AccelByte.
---
Mark James
CTO of Striking Distance Studios
Before ADT
Wasted Time
Creative and technical professionals spend hours waiting for the latest build to download just to review one small change.
Expensive Workaround
Hire resources to build tools and processes in-house from scratch or settle for multiple incomplete solutions.
Limited by Hardware
Pick which builds to keep on the hard drive because files are so large. Download, delete and repeat.
Broken Security Processes
Use FTP servers and one-time passcodes to share distributions and files.
After ADT
Optimized Workflow
Spend virtually no time uploading and downloading builds - build files automatically download, deploy and run in minutes so developers can focus on the important work.
Painless Development
Distribute, playtest, and monitor your game's health in one centralized hub for an organized, consistent user experience. Capture telemetry, feedback, crashes and errors in one place.
Complete Flexibility
No more full hard drives - store multiple builds locally as needed because the files are so small!
Secure Content and Permissions
Integrate with studio and publisher SSO providers and easily manage user permissions to protect proprietary game files.
Distribution
Efficiently share builds internally and externally
Supports desktop and major console platforms
Automatically download, deploy and run updates
Integrates seamlessly with studio/publisher SSO for increased security
Health
Get to the root of errors and performance bottlenecks in your game
Supports desktop and major console platforms
Collect and organize crashes and errors in development or production
Gather performance telemetry to identify problematic areas
Report qualitative feedback
Playtesting
Gather players and playtest your game
Distribute the right build to the right people at the right time
Invite only the people who you want to participate
Collect all feedback and errors from the playtest in one place
With Accelbyte Development Toolkit, you'll
---
Lower TCO and invest where it matters
Be able to test and build on nearly any system
Have a home for game development
Secure and simplify your pipeline
30-day free trial. Cancel at any time.
Register for a Free Trial
Create an account to access AccelByte Development Toolkit
Terms Of Service
ACCELBYTE TERMS OF SERVICE
This Accelbyte Master Service Agreement ("Agreement") is entered into by and between Accelbyte, Inc., a Delaware corporation with its principal place of business at 16100 NE 117th Street Redmond, WA 98052 ("Accelbyte"), and the customer identified on one or more applicable Orders ("Customer"). This Agreement sets forth the terms pursuant to which Customer will be permitted to use certain of Accelbyte web-based services. The parties agree as follows.
1. Accelbyte Service.
1.1 Rights to the Service. Subject to the terms and conditions of this Agreement and any additional restrictions or limitations set forth in an applicable order referencing this Agreement, including without limitation, any order placed through the Accelbyte website (each, an "Order"), Accelbyte hereby grants Customer a non-exclusive, non-transferable, worldwide right and license during the Term to access the Accelbyte service described in the applicable Order, by the number of users and at the usage level described in the applicable Order (the "Service"). For the purpose of this Agreement, "Monthly Active User" ("MAU") means the aggregate number of unique devices that have launched an applicable application identified (and captured by) the Accelbyte API that is integrated into Customer's applications over a rolling 30 days subject to reasonable approval and audit from Customer. The term "Seat License" as used in an Order means a single authorized user of Customer's that may access and use the applicable product or service. Customer may change its authorized per-seat users from time to time by providing written notice to Accelbyte. Per Seat Licenses are offered on a tiered pricing basis. If Customer adds additional Seat Licenses mid-way through a given subscription term, the prorated fee for the remainder of the term will applied based on the pricing tier applicable to the new number of Seats. In the event that Customer exceeds the limits on the number of MAU or Seat Licenses specified in an applicable Order, Accelbyte will invoice Customer, and Customer shall pay for such excess use at the overage rates specified in the applicable Order or otherwise specified within the Service itself. Accelbyte will use commercially reasonable efforts to provide the Service in compliance with the Service Level Agreement attached hereto as Exhibit A.
1.2 Updates. At no charge to Customer, Accelbyte shall install on its servers any software updates deemed reasonably necessary to address errors, bugs or other performance issues in the Service (collectively, "Updates"). Updates (if any) shall be subject to the same license terms and conditions of this Agreement.
1.3 API Key Access. If applicable to the Service specified in the applicable Order, Accelbyte will provide, within two (2) business days of the Effective Date of the applicable Order, a unique API-Key and provide access to the Service. Such key will uniquely identify Customer in Accelbyte's database. Customer shall be responsible for maintaining the confidentiality of such API-Key and will be responsible for any activity using such key.
1.4 Restrictions and License Conditions. Customer shall not, directly, indirectly: (a) attempt to sell, transfer, assign, rent, lend, lease, sublicense or otherwise provide third parties rights to the Service; (b) "frame," "mirror," copy or otherwise enable third parties to use the Service (or any component thereof) as a service bureau or other outsourced service; (c) allow access to the Service by multiple individuals impersonating a single end user; (d) use the Service in a manner that interferes with, degrades, or disrupts the integrity or performance of any Accelbyte technologies, services, systems or other offerings, including data transmission, storage and backup; (e) use the Service for the purpose of developing a product or service that competes with the Accelbyte products and services; (f) alter, remove or modify any proprietary marks, images or terms of use included in or displayed as part of the Service; (g) circumvent or disable any security features or functionality associated with Service; (h) reverse engineer or attempt to decompile any software provided to Customer by Accelbyte; or (i) use the Service in any manner prohibited by law.
1.5 Acceptable Use Policy. Customer shall comply with Accelbyte's Acceptable Use Policy, published at www.accelbyte.com/aup, as updated by Accelbyte from time to time. Accelbyte may suspend or terminate Service if Customer violates Accelbyte's Acceptable Use Policy. Accelbyte will endeavor to provide Customer with reasonable notice upon suspending or terminating all or part of the Service for this reason.
1.6 Reservation of Rights. Accelbyte, its suppliers and licensors reserve all rights not expressly granted to Customer.
1.7 Delivery of Service and Materials. The Service, and any updates or maintenance releases thereof, shall be made available only on a hosted basis, and will not be delivered in object code or physical media to Customer. The Service, and any deliverables provided under this Agreement will be delivered only through an electronic transfer. 1.8 Early Access or Beta License. If an applicable Order indicates that the Service is provided for evaluation, beta, or early access purposes (an "Evaluation License"), the Evaluation License shall terminate on the end date of the pre-determined evaluation period or immediately upon notice from Accelbyte at its sole discretion. Notwithstanding any other provision contained herein, Service provided pursuant to an Evaluation License is provided on an "AS IS" basis, without indemnification, support, or warranty of any kind, express or implied.
1.9 Self-Hosting. If an applicable Order indicates that Accelbyte will operate the Service from a Customer-controlled Amazon Web Services EC2 instance, Customer will provide Accelbyte with ongoing access to Customer's AWS instance to enable Accelbyte to access and operate the Service from that instance. Customer will not copy, modify, distribute or create derivative works of the software that Accelbyte provides, and will not interfere with or attempt to circumvent any security measures included with the Accelbyte software. Upon the expiration or termination of this Agreement for any reason, Customer will delete all copies of the Accelbyte software present on Customer-controlled instances. All software provided by Accelbyte under this Section 1.9 is considered the Confidential Information of Accelbyte and subject to the restrictions set forth in Section 4 below. Customer acknowledges that the operation of the Services may have an adverse effect on other operations that Customer may wish to run on the applicable AWS instance. Accelbyte is not responsible for any such adverse effect.
2. Customer Obligations.
2.1 Fees and Payment Terms. In consideration of the rights and licenses granted herein, Customer shall pay Accelbyte the fees specified in any agreed upon Order, including the initial Order incorporated into this Agreement ("Fees"). Unless otherwise specified in the applicable Order or herein, all Fees are due within thirty (30) days of invoice. Any subscription fees specified in the Accelbyte License Order Form ("Order") (separate document) are due and must be received by Accelbyte on or before the first day of the calendar month that Service is provided ("Start Date"). In the event that any Fees are not paid when due, Accelbyte may suspend access to the Service, with or without notice, at Accelbyte's sole discretion, and a 10% late fee will be imposed with respect to any unpaid amounts. In the event that Customer account is more than thirty days in arrears, Customer will pay interest on such overdue amounts at a rate of 1.5% per month (or the maximum permitted by law). In the event of Service suspension due to non-payment, if Customer wants to re-start the Service, all back fees plus another initial setup fee must be paid prior to the re-start. Notwithstanding any terms above, if Accelbyte terminates for non-payment, that does not relieve Customer from paying all fees (including back fees, remaining fees for the agreed upon Term, late payments and interest) agreed to herein.
2.1.1 If Customer paid any of the fees herein and that payment cannot be credited to Accelbyte for any reason (including but not limited to insufficient funds), (i) Accelbyte may turn-off or restrict Service, (ii) Accelbyte may immediately terminate Agreement, in accordance with Section 5 of this Agreement, and/or (iii) Customer shall immediately pay such fee plus any and all fees imposed to Accelbyte by third party financial institutions. 2.1.2 Accelbyte will provide to Customer all invoices required for payment. Invoice requirements will not excuse Customer from the timely payment terms herein. 2.1.3 Fees are exclusive of any applicable sales, use, import or export taxes, duties, fees, value-added taxes, tariffs or other amounts attributable to Customer's execution of this Agreement or use of the Service (collectively, "Sales Taxes"). Customer shall be solely responsible for the payment of any Sales Taxes. In the event Accelbyte is required to pay Surcharges on Customer's behalf, Customer shall promptly reimburse Accelbyte for all amounts paid. In the event Accelbyte is required to seek legal remedies to enforce collection of any amounts due under this Agreement, Customer agrees to reimburse for all additional costs associated with collection of that past due amount, including reimbursement of collection and attorney's fees. Accelbyte may make changes to the pricing under Agreement by providing Customer with notice at least sixty (60) days in advance of the expiration of the then-current contract Term. Such changes in pricing will be effective upon renewal. Notice for the purpose of this subsection will be provided as set forth in Section 9 below, or by email to the email address associated with Customer's account. 2.1.4 Except as otherwise specified in this Agreement, fees are based on services purchased and not actual usage, payment obligations are non-cancellable, fees paid are non-refundable.
2.2 Non-Solicitation. During the term of this Agreement and for a period of one (1) year thereafter, Customer shall not recruit or enter into any consulting or employment relationship with anyone employed with Accelbyte during the Term of this Agreement.
2.3 Feedback. Customer has no obligation to give Accelbyte any suggestions, comments or other feedback ("Feedback") relating to the Service or other current or potential Accelbyte products or services. However, Accelbyte may use and include any Feedback that Customer provides to improve the Service or other Accelbyte products, services, software and technologies. Accordingly, if Customer provides Feedback, Customer grants Accelbyte and its affiliates and subsidiaries a worldwide, non-exclusive, irrevocable, royalty-free, perpetual license to, directly or indirectly, use, reproduce, license, sublicense, distribute, make, have made, sell and otherwise commercialize the Feedback in the Service or other products, services, software and technologies. Accelbyte will not use the Feedback in any manner that identifies the Customer or any of its users as the source of such Feedback.
2.4 Reference. Customer will: (a) make one or more representatives reasonably available for reference inquiries from potential Accelbyte licensees, partners, and investors; (b) permit Accelbyte to create and publish a written or video case study describing in general terms the nature of Customer's use of the Service; (c) permit Accelbyte to issue and publish a press release containing a quotation from a representative of Customer announcing that Customer has licensed the Services and the general context of the intended use; and (d) allow the name and logo of Customer to be posted on Accelbyte web site and in marketing and advertising materials subject to compliance with the Customer's brand guidelines or other specifications regarding logo usage.
3. Term and Termination.
3.1 Term. Unless otherwise specified in the Order, the initial term of this Agreement will begin on the State Date of the applicable Accelbyte Order and shall continue thereafter for the Initial Term specified in Accelbyte Order (the "Initial Term"). If no Initial Term is specified in the applicable Order, the Initial Term will be one-month from the Start Date.
3.2 Auto Renew. Unless otherwise specified in the applicable Order, this agreement and Customer's Orders will automatically renew for additional one-month renewal terms unless either party provides written notice of its intention not to renew to the other party at least thirty (30) days prior to expiration of the current term. In the event that Accelbyte increases Fees in an applicable renewal term by more than 2.5%, Accelbyte will notify Customer at least one hundred and twenty (120) days prior to the effective date of the price increase. Fee increases of 2.5% or less in a given renewal term may be made by Accelbyte and will be binding on Customer if reflected on Accelbyte's invoice for such renewal term. Evaluation Licenses will not automatically renew.
3.3 Termination. Either party may terminate this Agreement if the other party materially breaches this Agreement and such breach has not been cured within thirty (30) days of providing notice thereof.
3.4 Effect of Termination. Upon expiration or termination, Customer shall discontinue all use of the Service, and return any and all software and documentation provided by Accelbyte.
4. Confidentiality.
4.1 Confidentiality. Each party agrees that, without the express consent of the other party, none of its employees or agents will disclose to any third party any information or material that the other party designates as confidential (including without limitation the terms and conditions of this Agreement) unless such information or material (a) is or becomes publicly known through no wrongful act of the receiving party, (b) is received from a third party without restriction and without breach of any confidentiality obligation to the other party, (c) is independently developed by the receiving party, or (d) is required by law to be disclosed (provided that the other party is given advance notice of, and an opportunity to, contest any such requirement).
4.2 Customer Data. As between the parties, Customer Data will be and remain the property of Customer. Upon termination or expiration of this Agreement or the applicable Service Order will make Customer's data stored on the Service available to Customer for download for at least thirty (30) days. Accelbyte may not use Customer Data for any purpose other than to render the Service under this Agreement or as otherwise expressly permitted herein. No Customer Data may be sold, assigned, leased or otherwise disposed of to third parties or commercially exploited by or on behalf of Accelbyte. Accelbyte may not possess or assert any lien or other right against or to Customer Data. Upon termination or expiration of this Agreement or any Service Order hereunder, Customer Data will be made available to Customer as described above. Within sixty (60) days after disconnecting Customer's access to and use of the Service, Accelbyte will delete all Customer Data in Accelbyte's system and shall provide written confirmation thereof upon request from Customer. Notwithstanding the foregoing, Accelbyte has permission to take the Customer's Data ("Source-A") and create an Extracted Data source ("Source-E"). Source-E will (i) not include any PII, (ii) be impossible to attribute or identify the source of this data back to the Customer, (iii) be blended with other similar Sources from other Accelbyte customers. Accelbyte will use the aggregate combination of Source-E Data gathered from other Accelbyte customers for the purpose of creating statistically relevant information which can be used to improve Accelbyte's products and services, and for research purposes. Accelbyte may retain Source-E data after termination of this Agreement and publish derivative works of such data, provided that such derivative works are anonymized and do not identify the Customer. Accelbyte will not sell any identifiable or attributable Customer Data.
5. Warranty/ Liability/ Total Liability.
5.1 Mutual Warranties. Each party represents and warrants to the other that it is duly authorized to execute this Agreement and perform the obligations set forth herein.
5.2 Disclaimer. EXCEPT AS EXPRESSLY SET FORTH IN THIS AGREEMENT, THE SERVICE AND ANY SOFTWARE PROVIDED IN CONNECTION WITH THIS AGREEMENT ARE PROVIDED STRICTLY ON AN "AS IS" BASIS. ALL CONDITIONS, REPRESENTATIONS AND WARRANTIES, WHETHER EXPRESS, IMPLIED, STATUTORY OR OTHERWISE, INCLUDING, WITHOUT LIMITATION, ANY IMPLIED WARRANTY OF MERCHANTABILITY, TITLE, FITNESS FOR A PARTICULAR PURPOSE, OR SATISFACTORY RESULTS ARE HEREBY DISCLAIMED TO THE MAXIMUM EXTENT PERMITTED BY APPLICABLE LAW BY ACCELBYTE, ITS SUPPLIERS AND ITS LICENSORS.
5.3 Force Majeure. CUSTOMER ACKNOWLEDGES AND AGREES THAT SERVICE MAY BE SUBJECT TO INTERRUPTION, LIMITATIONS, DELAYS, AND OTHER PROBLEMS INHERENT IN THE USE OF INTERNET APPLICATIONS AND ELECTRONIC COMMUNICATIONS. ACCELBYTE IS NOT RESPONSIBLE FOR ANY SUCH DELAYS, DELIVERY FAILURES, OR ANY OTHER DAMAGE RESULTING FROM EVENTS BEYOND ACCELBYTE'S REASONABLE CONTROL, WITHOUT REGARD TO WHETHER SUCH EVENTS ARE REASONABLY FORESEEABLE BY ACCELBYTE.
5.4 Limitation. CUSTOMER'S EXCLUSIVE REMEDY AND ACCELBYTE'S, ITS SUPPLIERS' AND LICENSORS' TOTAL AGGREGATE LIABILITY RELATING TO, ARISING OUT OF, IN CONNECTION WITH, OR INCIDENTAL TO THIS AGREEMENT, WHETHER FOR BREACH OF CONTRACT, BREACH OF WARRANTY, INDEMNIFICATION OR ANY OTHER CLAIM SHALL BE LIMITED TO THE ACTUAL DIRECT DAMAGES INCURRED BY CUSTOMER, UP TO THE AGGREGATE AMOUNTS PAID BY CUSTOMER AND RECEIVED BY ACCELBYTE HEREUNDER DURING THE TWELVE MONTHS IMMEDIATELY LEADING UP TO THE EVENT GIVING RISE TO THE APPLICABLE CLAIM. THE EXISTENCE OF MULTIPLE CLAIMS OR SUITS UNDER OR RELATED TO THIS AGREEMENT WILL NOT ENLARGE OR EXTEND THIS LIMITATION OF DAMAGES. CUSTOMER HEREBY RELEASES ACCELBYTE, ITS SUPPLIERS AND LICENSORS FROM ALL OBLIGATIONS, LIABILITY, CLAIMS OR DEMANDS IN EXCESS OF THIS LIMITATION. THE PROVISIONS OF THIS SECTION DO NOT WAIVE OR LIMIT ACCELBYTE'S ABILITY TO OBTAIN INJUNCTIVE OR OTHER EQUITABLE RELIEF FOR BREACH OF THIS AGREEMENT.
5.5 Exclusion of Certain Damages and Limitations of Types of Liability. IN NO EVENT WILL ACCELBYTE BE LIABLE FOR ANY SPECIAL, CONSEQUENTIAL, INCIDENTAL, INDIRECT OR PUNITIVE DAMAGES, OR LOST PROFITS OR LOST REVENUE ARISING OUT OF OR RELATED TO THE SUBJECT MATTER OF THIS AGREEMENT OR THE USE OF OR INABILITY TO USE THE SERVICE. THE FOREGOING EXCLUSION AND LIABILITY LIMITATIONS APPLY EVEN IF SUCH PARTY HAS BEEN ADVISED OF THE POSSIBILITY OF SUCH DAMAGES AND EVEN IN THE EVENT OF STRICT OR PRODUCT LIABILITY.
6. Notices and Requests.
Either party may give notice to the other party by means of electronic mail to the primary contact designated on the applicable Order or by written communication sent by first class mail or pre-paid post, either of which shall constitute written notice under this Agreement. In the event Customer desires to increase its allocated MAU's as described in the applicable Order, Customer may purchase such rights via telephone, facsimile or e-mail. E-mail or other writing from Accelbyte confirming such order shall be deemed sufficient to modify monthly active user allotment set forth in the Order. All additional access purchased by Customer during the Term shall be subject to the terms of this Agreement, including the prices set forth in the Order.
7. General.
This Agreement shall be governed by Washington law and controlling United States federal law, without regard to the choice or conflicts of law provisions of any jurisdiction to the contrary, and any disputes, actions, claims or causes of action arising out of or in connection with this Agreement or the Service shall be subject to the exclusive jurisdiction of the state and federal courts located in Seattle, Washington. Accelbyte may reference Customer as a customer, including in Accelbyte's public facing customer list and in discussions with potential investors. This Agreement shall be construed without regard to the party responsible for the preparation of the same, and shall be deemed to have been prepared jointly by the Parties. Any ambiguity or uncertainty existing herein shall not be interpreted against either Party, but according to the application of other rules of contract interpretation. This Agreement may be executed in counterparts, each of which will be deemed an original and all of which together will constitute one and the same document. Executed copies of this Agreement may be delivered by facsimile or digitally. No joint venture, partnership, employment, agency or exclusive relationship exists between the parties as a result of this Agreement or use of the Service. The failure of Accelbyte to enforce any right or provision in this Agreement shall not constitute a waiver of such right or provision. All disclaimers, limitations, payment obligations and restrictions of warranty shall survive termination of this Agreement, as well as the provisions of this "General" section shall survive termination of this Agreement. If any part of this Agreement is found to be illegal, unenforceable, or invalid, the license will immediately terminate, except for those provisions noted above which will continue in full force and effect. This Agreement, together with its exhibits, comprise the entire agreement between Customer and Accelbyte and supersedes all prior or contemporaneous negotiations, discussions or agreements, whether written or oral, between the parties regarding.
Request a Demo
Trusted by Leading Game Studios